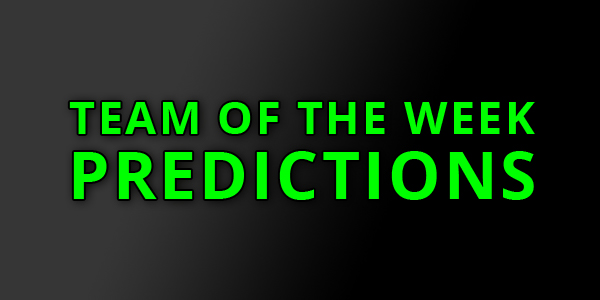 Who do you think had an outstanding week and deserves a Team of the Week upgrade? Let us know your predictions for the Offense and Defense Heroes in the comments below.
Here are our predictions for the Week 10 TOTW items (in no particular order):
Offense
Mitchell Trubisky (355 yards, 3 TDs, 148.6 passer rating)
Baker Mayfield (216 yards, 3 TDs, 151.3 passer rating)
Nick Chubb (176 yards, 8.8 YPC, 1 TD)
Aaron Jones (145 yards, 9.7 YPC, 2 TDs)
Rashaad Penny (108 yards, 9.0 YPC, 1 TD)
Allen Robinson (133 yards, 2 TDs)
Eric Ebron (69 yards receiving, 2 TDs, 1 rushing TD)
Defense
Vince Williams (4 tackles, 1 sack, 1 INT, 1 TD)
Leighton Vander Esch (13 tackles, 1 INT)
Prince Amukamara (8 tackles, 2 FF, 1 INT)
Chris Jones (3 tackles, 2 sacks, 1 FF)
Wesley Woodyard (10 tackles, 1.5 sacks)
Bryce Callahan (5 tackles, 1 sack, 1 INT)
Greg Stroman (5 tackles, 1 FF, 1 INT)
As always, keep in mind that these are our personal predictions and that none of these players are guaranteed to earn a Team of the Week item. Players from tonight's game between the Giants and 49ers are eligible, so make sure to include them in your guesses below.
Giveaway
We're giving away a Team of the Week 10 Hero player item (NAT) to one lucky Muthead member. To enter, leave a comment on this article with your predictions for both offense and defense Hero for TOTW 10. One member who gets both correct will be selected at random as the winner. If no one gets both right, we will draw a random winner from all comments. Editing your comment or leaving multiple comments disqualifies you from winning. Entry ends at 8 PM ET tonight (11/12/2018), or as soon as EA announces the new players.
Winner: JordanBa11er